Today we hit a major milestone. Its been many years, and a long hard journey, but today, our Honda Civic hit the 100,000 mile mark.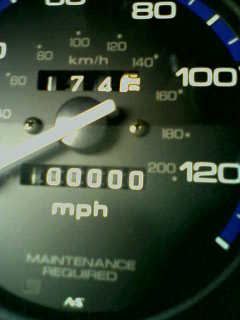 That's a pretty big deal considering that Matt has been the sole owner of the car, which he got as a graduation present in May 1999. Despite not really driving much in DC, this car has been all over the country. From Texas to DC, back to Texas, on to California, up and down the west coast including Seattle, and finally cross country back to DC. We've taken numerous road trips, and had a couple of minor accidents (including one that involved us patching up the bumper with duct tape).
The turnover happened as we were pulling into the arrivals area at Dulles Airport. We were dropping off one friend and picking up another friend that we haven't seen in 8 months. It was such a mundane thing to do, but life is made up of little mundane moments like that, isn't it?
But sometimes, life is not mundane. Like sitting at a fancy restaurant on the eve of your 5th anniversary and realizing that you feel just as giddy as you did on your wedding day (and no, it wasn't the wine). That is in fact another milestone that Matt and I are celebrating today, along with a friend's 30th birthday.
Yup, life is full of milestones.