I bet you've been wondering if I've been too hungover from my birthday party to tell you about it. The answer is yes...ha ha not really! What, me drink? Hee hee.
Elisa hasn't had a chance to get her pictures up yet, but my friend Avery has sent some to me. We had such a great time! Elisa flew in from San Antonio and brought a surprise with her...a watermelon pinata filled with Segovia candies (pralines, caramels and coconut flavored).
We spent pretty much all day on Saturday running errands for what would turn out to be the most rockin' party that we've ever thrown...literally. We rented a karaoke machine, and it turned out to be a huge hit. You know, there's always that concern that people would be too shy or modest to want to get up and sing. Luckily I have friends who are neither shy nor modest.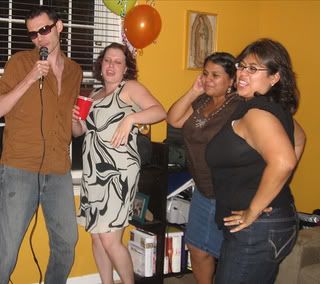 The pinata was planned by Matt and Elisa, but since Matt had never been to a party that involved a pinata, he was a little unsure about the logistics. It took a while, but they finally got the pinata up the tree. Elisa spun me around 30 times, and went to town, totally whacking the pinata into submission (apparently, I have a gift for hitting the pinata). When it cracked open, I heard a cheer come up from the crowd, so I tore off my mask...but no one was picking up candy. C'mon y'all! There's candy all around! Hoarde it greedily! We had to prod people along to get the candy, but they all finally took it. A few more people took a turn at the battered watermelon, and although there was no more candy in it, it was still thoroughly enjoyable.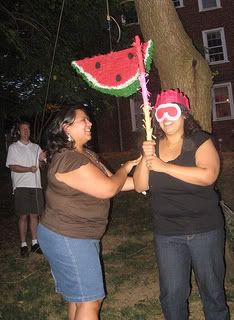 Ah, the rest of the night was kind of a blur, but I do remember singing, drinking and eating that delicious cake...marble cake with strawberry icing filling and cream cheese icing on top. It was quite nice too.
My house still hasn't recovered completely, which is a sure sign that it was a memorable party.