I'm a little late, but so far 2008 has been kind of busy for me. We had our mostly annual "Ribarama" party on New Year's Day, featuring college football bowl games and ribs. Usually, we get our ribs shipped in from "premium" bbq locations, such as
Rendezvous
(check out that URL),
the Salt Lick
, and last year for Sausage Fest (held on Super Bowl Sunday), we got our sausage from
New Braunfels Smokehouse
. This year, we decided to stay local, and ordered our ribs from
Urban BBQ
in Rockville MD. We did this because most places only ship ribs overnight, and with New Year's Day being on Tuesday, there was no way we'd be able to receive the ribs in a timely manner.
Matt and I knew we were taking a chance by getting local barbecue, and we had never tasted Urban's stuff before. So before Christmas, we went out for some barbecue tasting and made the arduous trek out to Rockville (the traffic is really terrible out there due to major road construction). We got lost, because its in the middle of a very tiny shopping center. I kept hoping to catch a whiff of the meat cooking on the pit, but alas, there didn't seem to be a pit on the premises. We tried three different kinds of meat: the ribs were tender and falling off the bone, the sausage was good, but covered in some weird sauce, and the brisket was kind of dry and not really very flavorful. We decided that the ribs and sausage would make the cut for Ribarama.
Despite the fact that I picked up the meats on New Year's Eve, the food was still delicous the next day (I heated it up in the oven). Matt picked up 2
growlers
full of beer, we had tons of food and people kind of staggered in whenever they had gotten over their hangovers.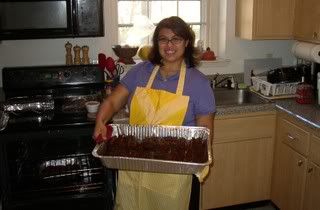 So now that the holidays are over, its back to healthy eating. Cutting back on cheese, bread, sausage. All that good stuff. My guess is that this may be the last blog I post about food for a while.