So last week was a really busy week for me. I was out in Anaheim for a couple of days for a library conference. I returned to DC on Tuesday, and on Wednesday I was on a plane to Denver. I like Denver a lot, and Matt and I would like to spend a few good days there, but this time, we were en route to
Rocky Mountain National Park
as part of our annual 4th of July trip to a national park.
Now you may remember that I blogged about previous years' adventures at
Lassen Volcanic National Park in California
and
Zion National Park in Utah
. We continued our trend of Western Parks this year, mostly because one of our group members moved to Denver recently and didn't have a lot of time off. But also because Rocky Mountain is in fact a kick-ass park. And by that, I mean the altitude at 12,000 feet totally kicked our asses.
I love Rocky Mountain because it really does feel look like a Coors Light ad, not that I'm a big fan of Coors Light or anything. The water was so pristine, and there was still some snow on one of the trails on the 4th of July. In fact, I fell in said snow twice--not intentionally. Luckily the weather is so dry up there that my shorts dried within 10 minutes each time, so its not like I was walking around with a wet bottom or anything (at least for a long period of time). The wildlife watching up there was phenoemenal. We saw a she-moose, a beaver hiking at 10,000 feet (nowhere near a body of water), and some really cool big-horn sheep. We also met some very friendly ducks.
This trip was great because not only did we get to go camping with some friends, but we also met up with other friends who live in the Denver/Boulder areas. I like Colorado a lot, and I wouldn't mind relocating there myself (hint, hint, Matt).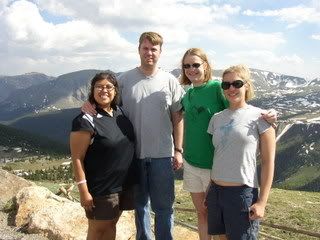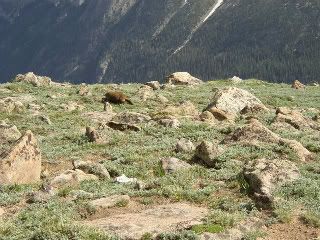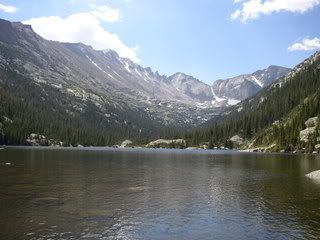 You can read more about our adventures on my Yahoo Trip Planner